New Generation Technology Company
Kontrolmatik, one of Turkey's leading engineering companies, is an engineering company, system integrator, technological product and solutions provider that offers value-added products and services to the energy and technology sectors.
Kontrolmatik was established in 2008 in Istanbul. Headquartered in Istanbul Esenler Koza Plaza, the Company provides services with its two factories, one of which is in operation and the other under construction, and offices in many countries. Kontrolmatik's main field of activity is power generation, transmission and distribution facilities, oil & natural gas, transportation, food & beverage, mining, smart agriculture & fertilizer and other industrial facilities such as cement, paper, iron-steel, chemistry; power plant subsidiaries, operational technologies, industrial software, control and security systems, communication, data processing, internet of things, power systems and turnkey solutions.

The company has successfully completed numerous projects in 30 countries with its experienced employees. The company provides operational technology solutions to its customers; realizes integration projects and software of operational technology packages with information technologies; All electrical, electromechanical, mechanical, construction and construction work, protection, control, monitoring, software, communication infrastructures, all necessary engineering, procurement, construction, testing and commissioning services from basic design scope to cyber security needs under a single roof. performs under.

Kontrolmatik develops technologies in line with its activities in this sector and markets, carries out large system integration projects by establishing long-term solution partnerships with leading international companies in the sector, and sells end-to-end and turn-key products, services and systems with its own designs, software, products and solutions.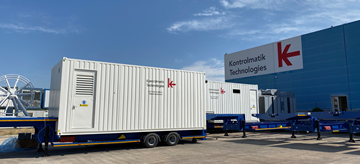 Controlling closely the trends in the world and the developments in technology, it has expanded its fields of activity in the process.
The company, which opened software and internet of things department in 2016, made investments in industry 4.0, technology and cyber security in the industry, and started to work in the fields of mobile energy systems, satellite and space technologies as of 2021.

One of Turkey's leading companies in digitalization, Kontrolmatik prepares its customers for the digital age with communication, protection, industrial security, control systems, internet of things and software solutions created by the joint efforts of its own engineers and solution partners, and solves the monitoring, control and security needs of their internal processes from a single point. . The company collects data from the field in a single center with its Controlix sensors and software developed by itself, and processes the incoming data and makes it available to its customers through its own online platform.  
​
The company, which manufactures portable energy generation, transmission and distribution equipment such as mobile substation, e-house, energy storage systems, mobile hybrid energy generation units in its Energy Mobile Solutions Factory with a closed area of 4,000 m2 in Ankara Kahramankazan, will be laid in early 2022 in Ankara. It will also produce lithium iron phosphate battery cells and energy storage systems and state-of-the-art communication devices in its factory in Polatlı. One of the subsidiaries of the Company, Plan-S Satellite and Space Technologies A.Ş. It is preparing to send its own developed communication test satellites into orbit in 2022. With the project, which will be realized for the first time as a private sector initiative in Turkey, satellites will be created from various sectors by creating a broadcast network in Turkey and the surrounding region.  It is aimed to process the sensor data it will collect and send it to the earth.
The World's 28th Largest System Integrator
Having gained an important place in the international arena in a very short time, the Company is taking important steps in becoming a regional and global power. Entering the list of System Integrator Giants from the 44th rank in 2019, the company ranked 37th in the list of the world's largest system integrators published by CFE Media and Technology in 2020, and rose to the 28th rank in the same list in 2021.
The shares of the Company, of which 23.8% were offered to the public in 2020, are traded on the Borsa Istanbul Main Market.
Milestones
As Kontrolmatik Technologies, we create a sustainable and carbon-neutral future through our R&D studies.
2008
The first project of Kontrolmatik, which was established in January 2008, is the Building Automation and Weak Current System project for the Microsoft Headquarters Building. Kontrolmatik successfully completed the Azerbaijan Zagalata Airport Building Automation Works project, which was its first overseas project in its first year. After the completion of the first project, Libya, Azerbaijan, etc. Other projects abroad continued.
2010
In 2010, he signed a business partnership agreement with ABB Elektrik, one of the leading electricity companies in the sector, both in Turkey and globally.
2011
Deciding to expand its fields of activity in 2011, Kontrolmatik has started to work in the Energy sector as well as the Building Technologies and Transportation sectors. His first project in the energy sector was to provide Control Systems for four different Gas Power Plants, and then he completed his first overseas studies in this sector, with the Power Plant and High Voltage Substation in Iraq.
2012
Kontrolmatik, which increased its activities in Power Plant and High Voltage Substation projects after 2012, has completed many projects in countries such as Iraq, Turkmenistan, Saudi Arabia, Afghanistan and Jordan.
​
In 2012, he signed his first project in Africa for the Tanas Beles Sugar factory business in Ethiopia. After this project, he also provided solutions in the Omo Kuraz Sugar Factory project, and also supported and pioneered the establishment of a domestic panel factory by the government agency he did business with.
2013
Kontrolmatik, which increased its activities in the Energy and Transportation sector in 2013, took part in various projects such as tunnel electromechanical projects in Ankara and Istanbul, and Power Plant in Zonguldak and Siirt, and successfully completed its responsibilities.
2014
In 2014, he signed the first turnkey contract, Eti MiningKırka Compressor Station project, with Eti Mining. This project is the first work that Kontrolmatik has completed in all its scopes, including construction, mechanical, electrical and automation.  
​
In 2014, it successfully completed its first project in Europe with the scope of Pristina Airport Energy Monitoring System on behalf of Limak Construction.
2015
In 2015, Kontrolmatik successfully completed the Energy Management System project for İkitelli Industrial Zone, Turkey's largest Organized Industrial Zone. This project was one of Turkey's largest private distribution networks and one of the largest Energy Management System projects.
2016
Kontrolmatik signed the highest amount of contracts ever by undertaking all E-BOP and 220 kV Switchyard scopes of 3 x 175 MW and 2 x 175 2 power plants in Africa in 2016.  
​
Kontrolmatik, which follows the trends of the sectors, opened a Software and IoT department in 2016 and started to invest in Industry 4.0 and Cyber Security, which are the current trends.
2017
In order to meet the increasing EPC project demands as of 2017, Kontrolmatik has changed its corporate organizational structure and the company; It has strengthened its systematic solution approach by dividing it into 6 sections: Turnkey Projects, Engineering, Test and Commissioning, Control Systems, Communication Systems, Software and IoT.
2018
Kontrolmatik took part in the Istanbul Third Airport (IGA) project, which is one of the most prestigious projects in the country in the field of software & internet of things. Lorawan realized one of the biggest internet of objects projects in Turkey to date with its meter monitoring system.

Kontrolmatik, Iraq's Ministry of Electricity (MEB) and Iraq 4 132 kV GIS in Mosul within the scope of the reconstruction & Signed EPC contract for AIS substation. The project is the largest EPC substation contract signed by a Turkish company with MEB in Iraq in recent years.

2019
Having signed partnership agreements with General Electric in the field of control systems, Nozomi Networks and Fortinet in the field of cyber security, PSI in the field of production management system and OSISoft in the field of data management system, Kontrolmatik has increased its activities not only in Turkey but also in other countries.
2020
In the list published in the Global System Integrator Database of CFE Media & Technology, Kontrolmatik was selected as the world's 37th largest system integrator.
 
AKSA Energy Generation Inc. in Tashkent, Uzbekistan. Controlling the scope of the 110 kV transformer center in the natural gas power plant project carried out by the company, Kontrolmatik continued its leadership in the Turkic Republic countries.
Kontrolmatik has been trading on the Istanbul Stock Exchange since October. The company continued its sectoral success in this expansion by collecting 26.3 times the demand.
2021
By opening new local offices in Cameroon, Russia, Libya and Uzbekistan, the number of countries in which it operates was increased and its field of activity was expanded.
 
The Mobile Solutions Factory in Ankara Kahramankazan became operational.
 
Kontrolmatik has achieved a new success by moving its place to 28th place in the list of the world's largest system integrators published by CFE Media and Technology.
 
An agreement was signed to send three Internet of Things test satellites developed by Plan-S, a subsidiary of Kontromatik, into orbit with Space X Falcon 9 rockets in 2022.